J'AIPUR Journal: What is your background and how did you become an artist?
Shreya Mehta: I was born in Mumbai, moved to Belgium where I grew up, and have lived most of my adult life within the United States. My unique external and internal identity can often be difficult to reconcile in any simplified manner. Which of those limiting boxes do I check on the census? Taking inspiration from all these cultures prompted me to become an artist.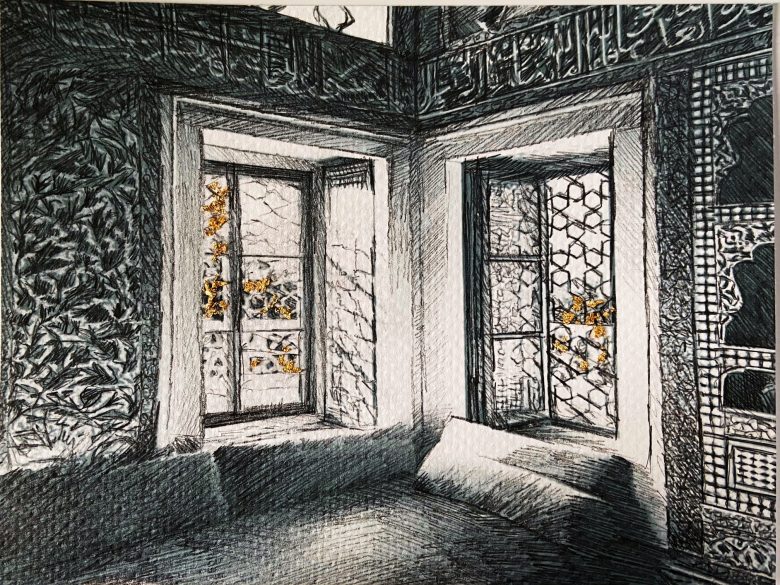 "Traces of Marrakech," Charcoal, Graphite and 22K Gold Leaf on 150 lb Arches cold-pressed paper
JJ: Describe your creative process.
Shreya: I always make sketches at 8"x11" as there is something about the A4 scale that I feel comfortable with. I then translate those sketches into larger works. Currently, I am exploring large scale paintings —6ft or larger. I am interested in having a conversation in direct relation with the scale of the human body and attempting to convey that art is something larger than just one individual. In a recent painting from this new series, I use vermillion (sindoor) pigment as a means of showcasing the 'Maya' illusion and biases that we place in our lives. This red color is typically ascribed to the root chakra which is understood as the foundation for the self and is traditionally applied on the third eye as a connection to our higher knowledge. These associated meanings are all incorporated into my paintings through the strategic use of the sindoor pigment. These layers of Maya (sindoor pigment) shroud the Atman, the soul (22K gold leaf).
JJ: Who are some women artists (living or dead) that you admire?
Shreya:
Italian Baroque painter Artemisia Gentileschi (1593–1653), was a trailblazing woman. Her talent is undeniable and she continues to be recognized for her realistic depiction of the female form, the depth of her colors, and her striking use of light and shadow.
Contemporary artist Bharti Kher with her use of Bindis has masterfully used Indian mythology and traditional Indian materials as a means for discussing contemporary cultural conversations.
Georgia O'Keeffe's exploration of flowers and the deserts — the presumed simplicity of it is what I strive for in my own work.
JJ: Name an art exhibition that had a lasting impression upon you.
Shreya: Random International's immersive environment Rain Room (2012), at MoMA PS1. In a field of falling water that pauses wherever a human body is detected, Rain Room offered me the experience of controlling the rain, and therefore controlling the element of water.
JJ: What inspires you to create?
Shreya: Growing up, I wanted to be a doctor; my majors were biology and chemistry. However, the more I explored art, the more I found that science and art naturally overlap. Both are a means of investigation. Both involve ideas, theories, and hypotheses that are tested in processes where the mind and hand come together.
JJ: What are some tools, techniques and materials that you employ to create your work?
Shreya: After learning about the animal cruelty that goes into paints, brushes, and really most traditional art materials, I threw my old supplies away and started on a new journey of 'Vegan Art'. This has been a guiding force within my practice ever since. I use vegan, raw materials. But beyond physical materials, I am also incorporating my body, spirit, and mind into my work. We live in a sea of vibrating energy – our bodies, our human material and the products we create. I want to use the purest of raw materials to translate these pure vibrations.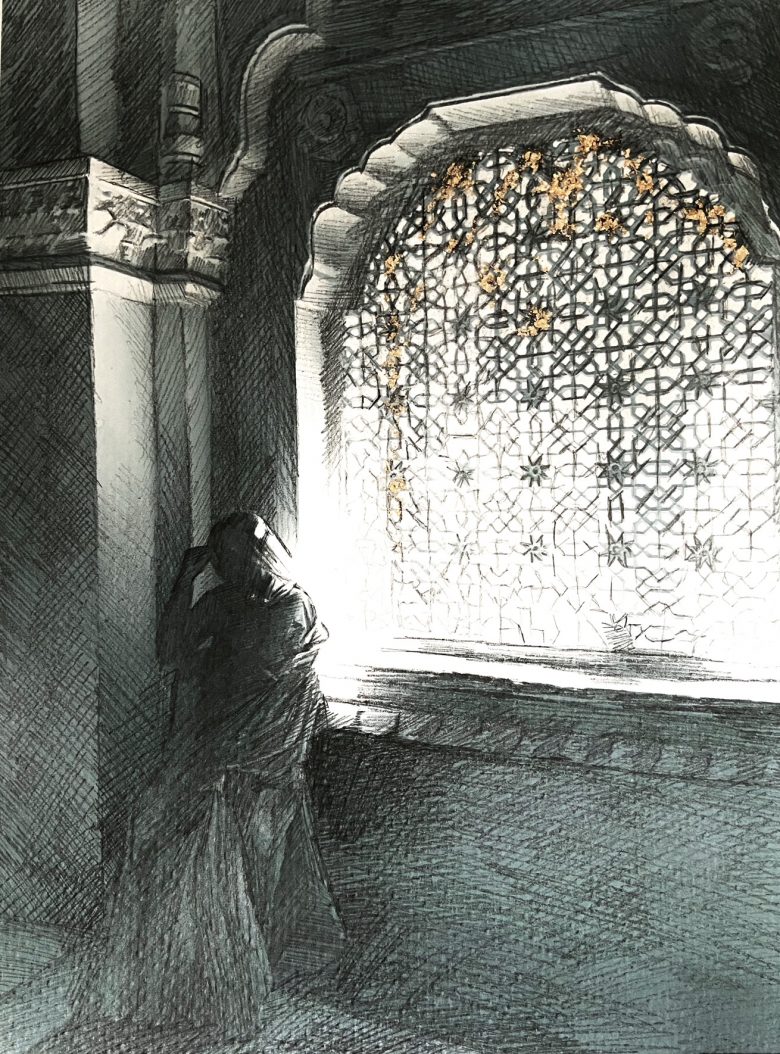 "Traces of Rajasthan," Charcoal, Graphite and 22K Gold Leaf on 150 lb Arches cold-pressed paper
JJ: How would you like to see your artistic practice/career evolve over the next few years?
Shreya: To break the glass ceiling as a woman artist.
JJ: How do you navigate the art world in terms of finding opportunities and building a collector base?
Pre-Covid, I went as often as possible to exhibition openings because speaking to galleries and other artists is needed. There are many artists out there who would rather stay in their studio, do their creative thing, and not to be bothered by the people wanting to give them good money for their artwork. Resist the urge to shy away!
Be open to inviting collectors and buyers into your studio space for a look behind-the-scenes.
Make it easy on buyers to find you by having a business card, or have them sign up for your newsletters. Too many artists think their social media presence is enough and people can simply find them online.
JJ: What advice do you have for someone who wants to be an artist?
Shreya:
Be authentic. Paint only what interests you in the way you choose to paint it. Don't change your approach to gain sales, popularity or acceptance. You will never do your best work if you do.
Compete only with yourself. Avoid competitions, contests and measuring yourself by how many shows you've gotten into or awards you've won. Seek validation internally; you will never please everyone.
You have to realize it's a lot of work. You can't just sign up for a workshop or go to an art class once a week and expect gallery representation and collectors to follow shortly thereafter. Most successful artists have natural talent, a long history of education and a lot of practice under their belt. Your goal should be to be the best artist you are capable of being.
JJ: What are some challenges you have faced as an artist?
Shreya: Art is very time consuming on all levels. It is a beast that needs feeding regularly.
JJ: How do you think the art world can better support women artists?
Shreya: Be more of an activist. If you think somebody is doing a good job in the exhibition, museum or gallery space, be sure that you tell people. If an art fair has a high number of women in it, and the sales are good, art newspapers and magazines should be sure to point that out. I think individuals who have the wherewithal should buy art made by women. I also think that people should advocate with other collectors and auction houses so that buying art by women is not just the high-dollar exception but can become a rule. Lastly, which I think is key: teach boys and girls the same way. If we do that, I think the art world and every part of society would be different.
JJ: What do you like to do when you are not making art?
Shreya: I love to practice meditation which is something I do every day. I practice silent fasting on a regular basis (once a month) and I also commit to an 8 to 9 day silent retreat every year. During those days, I do not speak — no body language, no electronic communication, no human interaction of any sort. During these silent social fasts, I am within and completely internalized. All I do is create art, meditate, and write. This emptying of my mind is a necessary detox and a fountain of creative thinking and creation. This internalization—this journey within myself—is an endless source of creative inspiration for me. As a mother, wife, and daughter, I find this concentration on myself—the meditative exploration of who I am beyond an attachment to others—to be a creative, regularly tapped resource.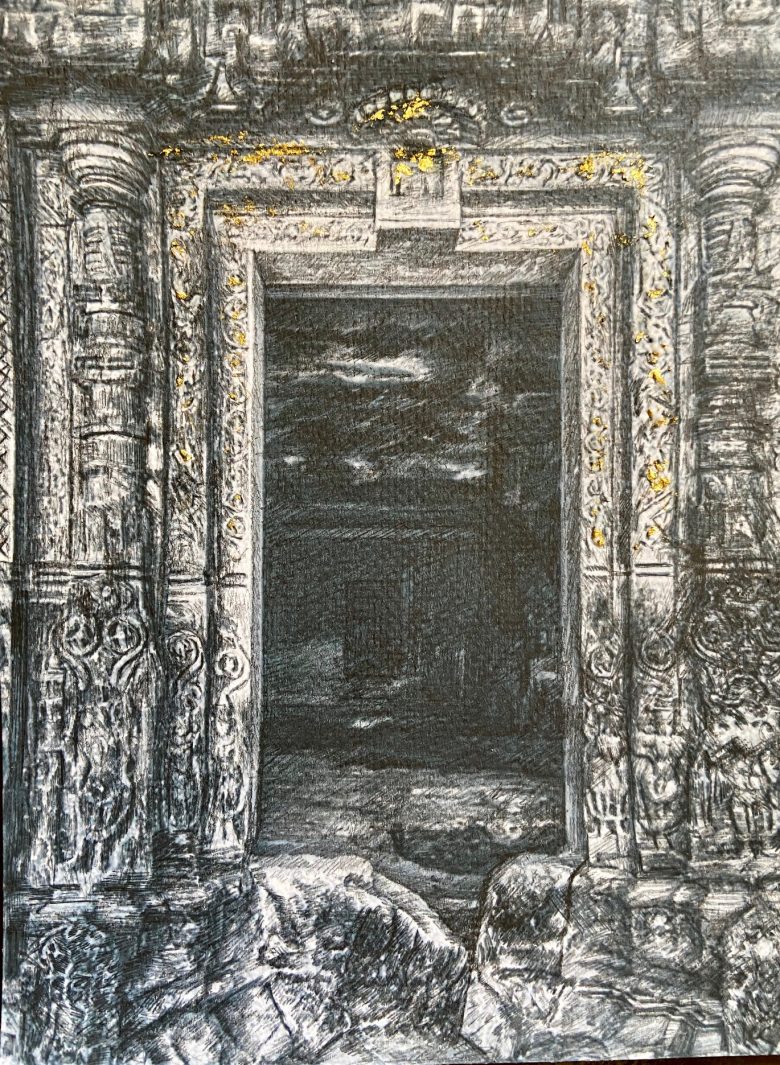 "Traces of Temple Doorway," Charcoal, Graphite and 22K Gold Leaf on 150 lb Arches cold-pressed paper
---
Contact us if you are interested in more information about the artist and purchasing her works. We encourage you to support women artists to bring greater diversity into the art world!